Server Maintenance Program
Let Franktronics keep your server operating at peak performance with our Server Maintenance Program. Based on your business' use of your server, Franktronics will recommend a routine schedule for server maintenance activities including, but not limited to:
Identifying and correcting any on-going software issues
Performing diagnostics on hard drives
Verifying proper operation of your back up system
Installing appropriate software updates
Ensuring proper security settings and measures are installed and functioning
Ensuring Anti-Virus software is up to date and functioning properly
Verifying proper operation of the battery backup
In some cases, arranging a physical cleaning of the system
When maintenance has been completed, a detailed report is provided for your records.
Data Backup and Restore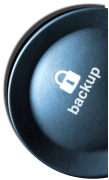 Information is one of your organization's most valuable assets. From both a business and legal perspective, you have to protect your data, but the cost and complexity of doing so can be overwhelming. Franktronics can protect and manage your data while also increasing your storage efficiency.
How it Works:
Our service is designed for secure off-site storage and retrieval of backup data via the internet. Your records, files, and data are encrypted and transfered over the internet to our electronic vault and stored far from your computer.You can recover a single file, or all of your data files using our backup application.Franktronics can also save a snapshot of your data to DVD or other large capacity media for longer term storage.